The
one
time I
ask for advice
... the ONE TIME... and...
nothing.
SHAME on you, fellow bloggers. Shame.
But I will not take your silence to be a sign of your hate for me or your secret wishes for me to fail miserably at both dressing myself and feeding myself for my next race... but instead I will take your silence to mean that you, too, are clueless.
So I will provide an obviously much-needed service to the triathlon community by sharing with you what I have learned...
1. Triathlon clothes are expensive.
2. You can pretty much buy the
exact
same type of top at Dick's for half the price, only it's called a "workout top".
3. Nutrition is complicated.
That's it. What?! You were hoping for more? Sorry... that's all I've got.
I will be making a trip to the local running shop on Saturday to try and replace my too-small tri top with something more fitting (pun intended).
As for nutrition, I'm still clueless. I tried Googling it, but the results just confused me further. "Take a half block 1/4 mile into the bike, washed down with a swig of Gatorade and chased with water. Take a gel at the turn around, swished with Gatorade, then spit out. Take a protein bar when the sun hits the third quadrant and the crows start to fly..." Okay, yeah... so I made most of that up... but you get the point.
I'm just thinking "
huh?!
"
Truth is, I've never even eaten a GU or gel or whatever before. I pretty much stick to water and the occasional Gatorade (although, unless it's fruit punch flavor, GAG). I had sports beans during my
Half Marathon
, and those were fine I guess.
Well, unless I get some answers soon, I'm gonna have to just bring some bacon with. Everyone likes bacon, right?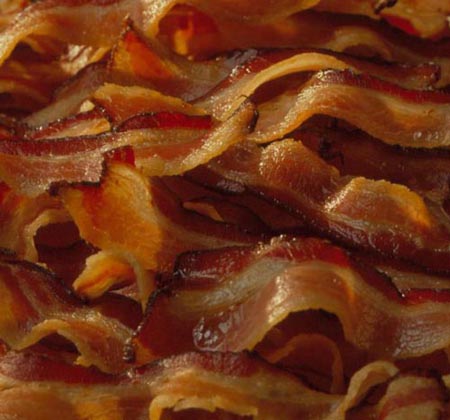 PS: Is it a bad thing to only carry one water bottle on the bike? I only have one cage on my bike, but I guess I could add another.
PPS: I just like this photo...